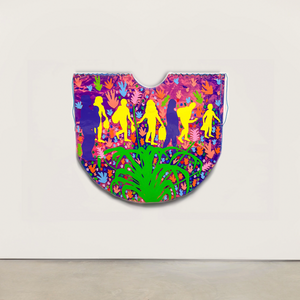 Hoesy Corona
Climate Poncho 34
hand cut vinyl on vinyl fabric with leather cord
40 x 48 in
Hoesy Corona (based in the U.S.) is a Queer Latinx artist creating uncategorized and multidisciplinary art spanning installation, performance, and sculpture.
His latest installation Terrestrial Caravan (2022) at the Academy Art Museum in Easton, MD is on view through Aug 2023. He is a current Winston Tabb Special Collections Research Center Public Humanities Fellow 2022-2023 at the Johns Hopkins University's Sheridan Libraries'. Hoesy has exhibited widely in galleries, museums, and public spaces in the United States and internationally including recent solo exhibitions All Roads Lead to Roam (2023) at Eric Dean Gallery at Wabash College in Crawfordsville, IN; Sunset Moonlight (2021) at The Walters Art Museum in Baltimore, MD; and Alien Nation (2017), at The Hirshhorn Museum and Sculpture Garden presented by Transformer in Washington, DC. Hoesy is a former Taf Fellow 2019-2020 in Tulsa, OK and a Halcyon Arts Lab Fellow 2017-2018 in Washington, DC. He is the recipient of numerous honors and awards including The Nicholson Project artist residency, The Mellon Foundation's MAP Fund Grant, and the Andy Warhol Foundation's Grit Fund Grant. His work has been reviewed by The Washington Post, Bmore Art Magazine, and The American Scholar among others. In 2022 he was named the inaugural Restoring Hope, Restoring Trust Artist in Residence 2023 at Wabash College in Crawfordsville, IN. He is a current resident artist at The Creative Alliance in Baltimore, MD.